For Hong Kong International Airport, The Only Way is Up
AN OVERVIEW OF CURRENT HONG KONG INTERNATIONAL AIRPORT PROJECTS
A few months back we took a look at Hong Kong's rail strategy – giving a brief overview of the various projects and initiatives that will be shaping the region's railways in the coming decade.
This month we wanted to give a similar overview of the extensive plans for and around Hong Kong International Airport (HKIA). With so many major developments underway or due to start, it's worth taking a step back to get a sense for what's going on.
Classed as the tenth largest airport in the world, at present HKIA serves approximately 70 million local and international passengers annually. With the creation of the forthcoming Three-runway System (see below), HKIA is expected to serve 100 million passengers by 2030.
Contract Dispute Consultants has extensive knowledge of all aspects of contract and dispute procedures, having direct experience spanning over 20 years at HKIA airport, including the initial Chek Lap Kok construction, Skypier and the recent Midfield Concourse Building.
THREE'S A CROWD
HKIA's third runway was signed off officially in 2016 at a projected cost $145.5 billion. The scheme is of such scale it will physically reshape Hong Kong. Officially named the 3RS project, it involves 650 hectares of land reclamation and the building of 13km of sea walls. The runway itself will be 3,800 metres in length.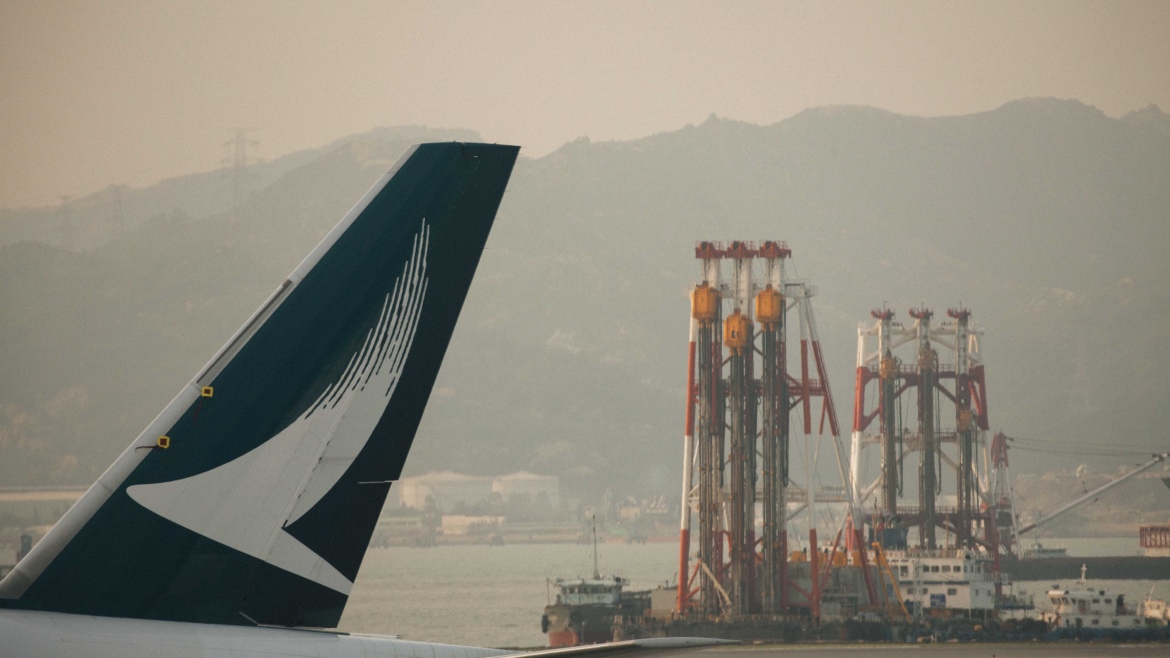 Figure 1 – Barges working on the advance ground stabilisation works for the new HKIA runway – (c) David Feehan
As well as a new landing strip, 3RS will also see reconfiguration of Terminal 2 and a host of extensions and amendments to the current airport. Size wise, the project almost matches the scale of the original airport construction.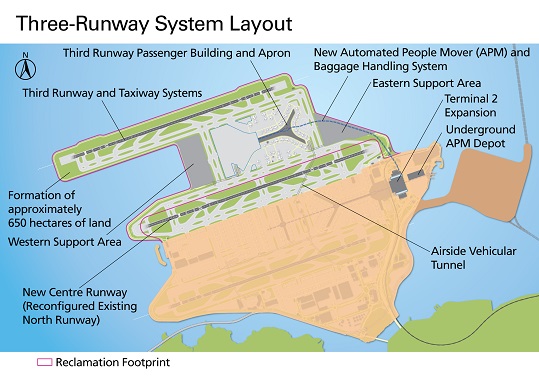 Source: https://www.threerunwaysystem.com
The extra runway is seen as vital not just as it will help serve increased demand, but will also counter increased competition for passengers from a variety of Asian airports.  We will cover 3Rs in more detail in a future update, but to bridge the capacity gap between now and completion of the expansion, HKIA have tabled extensive plans for enabling works costing approximately HK$7 billion.
TERMINAL 1 GETS AN UPGRADE
In connection with the expansion of HKIA and the building of a third runway, Terminal 1 will also undergo significant expansion and renovation. Part of the work on Terminal 1 stems from the need to provide additional passenger processing capacity in 2019 when Terminal 2 is closed due to building work for the third runway.
Terminal 1's development commenced in 2016 and will be completed in 2020. Features of the development include:
New 12-floor 'multifunctional' building which will include the Hong Kong Aviation Academy, sports hall, community centre for airport staff (including 500 seat food court), gym, kindergarten and 1,400 parking spaces.
Construction of an annex building (north of Terminal 1) which will encompass: two baggage claim belts, 40 new check in counters, early luggage-storage facility, children's play zone and rooftop garden.
SKY BRIDGE TO MAKE SHUTTLE BUSES A THING OF THE PAST
A major development within HKIA itself is the recent announcement of the 'Sky Bridge' project, which aims to improve the passenger experience and remove the need for shuttle bus traffic.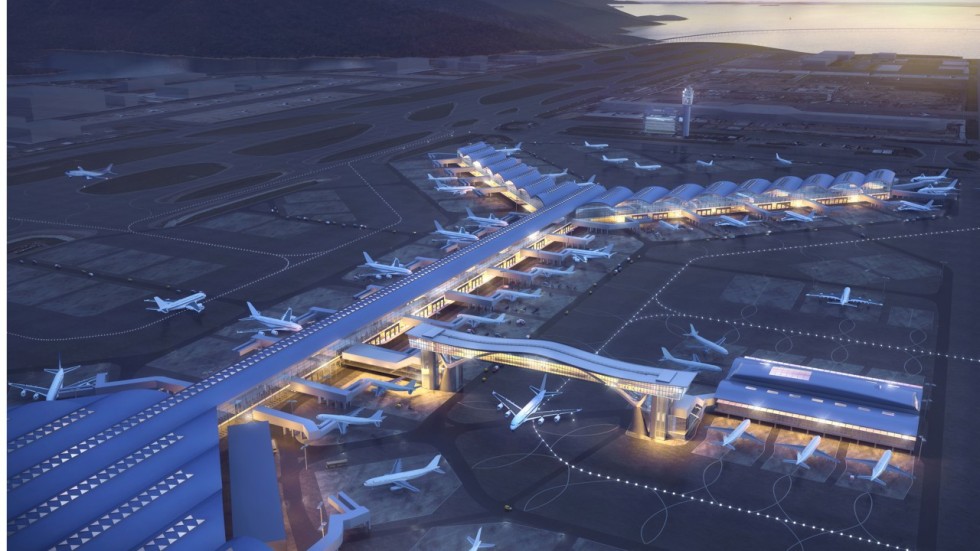 Source: Hong Kong International Airport
Presently, passengers using the North Satellite Concourse (NSC) must use shuttle buses to travel to and from Terminal 1. It is hoped the Sky Bridge will save passengers about ten minutes in travelling time as well as save 350,000 litres of diesel fuel annually as buses are phased out.
The contract for the design and construction works is penned in to be awarded early next year. Construction is estimated at two years and cost at least HK$2 billion.
SKYCITY TO CREATE 'AIRPORT CITY'
12 months ago, the Airport Authority Hong Kong (AA) released details of SKYCITY, it's vision to transform HKIA into an 'airport city'.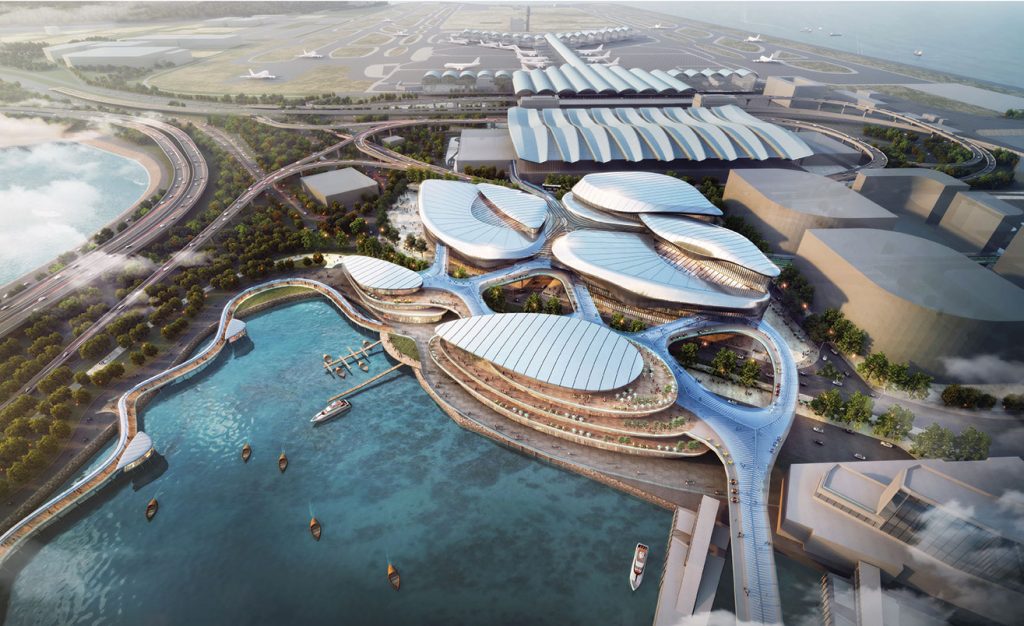 Source: https://www.skycityhongkong.com/en
SKYCITY, which will actually be located a 'short stroll' from HKIA, will span 25 hectares of land north at the north of the airport island. It will feature office towers, hotels, dining space, retail complexes and entertainment facilities.
The development hopes to tap into the fresh revenue expected from the thirty million extra passengers the third runway will bring in – as well as the potential growth stemming from the Tuen Mun-Chek Lap Kok Link and the Hong Kong-Zhuhai-Macao Bridge.
Developers will be selected from open tenders and phase one of the project – encompassing 195,000 sq. metres of retail, dining and entertainment – is due for completion in 2021. More information on SKYCITY can be found on the official website.
CARGO HANDLING UPGRADE
It's not just passenger facilities that are benefiting from the expansion. DHL, in association with HKIA, have also recently announced an HK$3 billion expansion to its Hong Kong hub. HKIA has been ranked as the world's busiest for air cargo since 1996. The announcement of the new hub will only serve to cement that status. The hub will commence operations in 2022.
SHORTCUT TO APPEAL TO MAINLAND CHINESE
Finally, in late August it was announced that a HK$3 billion shortcut will be built for passengers travelling via the Hong Kong-Zhuhai-Macau bridge.
Pending approval of environmental permits, the work on the 360-metre bridge would begin in 2020. The bridge would link customers to a customs centre on an artificial island – easing the journey of passengers travelling to and from mainland China. It is estimated 2.2 million passengers would use the shortcut annually.
Despite the continued growth of HKIA, the shortcut is part of measures to counter competition from Shenzhen and Guangzhou's airports for mainland Chinese passengers.